✅VBA Macros Training + SQL Course + Free MS Access Training in Delhi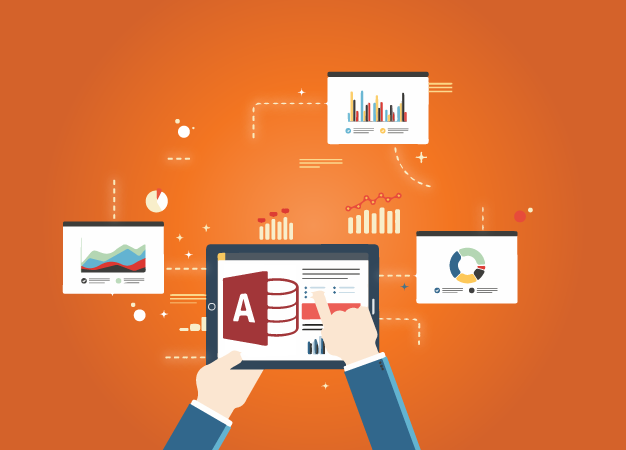 VBA/Macros Automation Course
Complete SQL
in a Class
SQL
String
Numbers and SQL
SQL Function
& Clause
Maintaing SQL
Server Database
VBA Macros Access-SQL Course
VBA Macros Automation-Access-SQL & Free Basic ( Python+Tableau )
Visual Basic for application (VBA) refers to an event-driven programming language utilized by Microsoft Office applications to automate their operations in an efficient manner allowing the user to perform them with little effort and complete them quickly. It helps the user to develop customized applications which improve functionality, speed and performance of Microsoft applications such as MS Excel, SQL, MS Access, etc. VBA mainly helps in automating complex and tedious operations in Microsoft Office such as the development of spreadsheet, performing major calculation, handling and management of large data sets, performing common commands and much more which is the main reason business organizations all over the world utilize this reliable and convenient tool in their offices. VBA macros is an automation function in the tool used for automating tasks in MS Excel by writing macros codes. Even though there are various similar tools have emerged in the last few years in the market, this decade-old application is still being used continuously in measure business organizations. Due to this, students after completing their matriculation studies and even graduation tend to learn visual Basic for applications and macros to pursue a successful career in the data management field. If you also think that programming and other complex IT operations it is extremely difficult for you to learn and pursue a career in, then it is highly recommended for you to attend VBA macros automation training Delhi where you will get to learn about all the concepts and operations of Visual Basic for applications and how it can be used in Real-world.
SLAConsultants Delhi is known as a prominent and highly recognized VBA macros training institute who have been providing job oriented and industry-focused excel training to the individuals for the last 10 years successfully. The certification program is targeted towards both business and working professionals who wants to enter into the fields of database management. Apart from that, the training course will also provide knowledge and expertise in basic Python and Tableau, all programming and MS Power BI. It will help the participant to strengthen their chances of acceptanceduring the interview and help them with their career in the future. Anyone is eligible for VBA macros automation training Delhi as long as they have completed their graduation in any field.The training program will help you become a certified professional in the field of database management who will be highly regarded and respected in the industry. And therefore, if you think you are good with numbers and figures and have a will to become a professional Data Manager in the future, then you can attend our reliable and industry-based VBA macros training program in Delhi NCR and kick start your career after graduation.
Visual Basic for application is a scripting language developed by Microsoft for the purpose of automating Microsoft applications operations such as data processing, developing pivot charts and tables, code generation, interacting with databases, calculation, etc. VBA macros automation training in Delhi is a highly customized and industrial relevant certification program, which is specifically beneficial for students who want to enter into the database management field and working professionals who want to enhance their current database management skills to fast pace their processing speed and contribute more to their respective organization. SLAConsultants Delhi understands that not every IT student and professionals are skilled enough to become a professional web programmer or a data analyst and that is why we have designed this certification program for those who want to become a professional database manager and perform related operations with ease and comfort. The training course will teach the learner how to work with various Microsoft Office applications such as MS Excel and MS Access using Visual Basic for application and automate their operation with the help of linear programming. It is not necessary for the individual and participants to have programming skills in order to attend the training program. The participants will also learn to develop VBA macros which are mainly utilized for automating Excel operation such as developing complicated reports and performing large calculations quickly. During the certification program, some of the things that the learners will gain information include managing small reusable processes, holding variables in the memory, creating self-defined functions, managing powerful processes lacking access macro, handling errors, etc.
Upon successful completion of the VBA macros automation training Delhi, the learners can perform all the job responsibilities of a web developer and programmer which include developing Microsoft access databases, developing table, queries and forms and reports, using Visual Basic in Microsoft application such as MS Access, Excel and PowerPoint, using advanced Excel functions including lookup and reference function, pivot tables, complex formulas and graphing to streamline business processes, developing test plans and software documentation to support code modification, etc.The course curriculum of VBA macros automation training Delhi is highly updated and designed as per the current industry requirements. The training is conducted by highly certified and professional instructors having over 10 to 15 years of experience in the field of visual Basic for application and database management. They will be responsible for providing the learners with real-time practical training with live projects and assignments, workshops and handouts, conducting seminars and lectures and resolving any doubts of the students in real-time to make them understand the Expectations of VBA programmer and developer and fulfill their job responsibilities as a professional database manager. Other major features of VBA Macros excel certification program in Delhi include projector-based smart classes, free trial classes for desiring candidates, multiple batches of different time frame, weekdays and weekend, valid certification at the end of the training 100% job placement support which include Interview preparation, personality development training and sending the candidates for job interviews in reputed organisations until they are selected.
Microsoft Office is currently being used all over the world for the purpose of various business operations such as database management, even though various new tools and application have been introduced in the market in the past few years. Every business organization regardless of their size utilize MS Excel, mS Access, PowerPoint and other Microsoft Office applications, for which VBA needs to be used for better and smart functioning of these tools. This is because the tool is highly useful in customizing the operations in all these office applications and allow the user to perform their job responsibilities and duties with efficiency and ease. In today's highly competitive world, companies also want candidates who are skilled enough in Visual Basic for application and know how to use macros in order to automate operations in-office application. Apart from that, if they have extra knowledge in other database tools such as Python and Tableau, R programming and Ms Power BI, they will be provided with high Esteem and respect during the recruitment process. Other major reasons why you should consider learning Visual Basic for application and macros are as below:
There is a huge requirement for professional VBA programmers and Developers in the Indian market due to the increasing amount of generation of data which needs to be processed and manage in a fast manner. VBA will help the user to develop a user-friendly and customizable program allowing them to perform office application operations easily.
The demand for professional database operators and managers have been increasing in the market and companies still prefer candidate I will advanced skills in MS Office and VBA as it is easy to use and offer the best solution for database processing.
Various multinational organizations such as HCL, Genpact, Google, Accenture, Microsoft, etc still utilized Microsoft Office applications for which skilled VBA programmers are high in demand in these companies. Therefore, if you learn automation and macros skills in VBA, you will become one of the most suitable candidates for these companies and pursue a successful career in the future.
The salary offered to professional VBA programmers and Developers in the Indian market is extremely high as compared to other IT job profiles. On average, a professional VBA programmer and developer in India earn anywhere around 5-7 lakh per annum as of 2018 which is expected to increase at least 30% in the next few years.
There are various job profiles which you can also pursue after acquiring skills in VBA which include senior data analyst, software engineer, database manager, VBA programmer and developer, business analyst, etc. All of these job profiles are highly in demand due to their ability to process huge amount of data efficiently and fastly, which is the need for the industry.
These are some of the most important and inevitable reasons why many it students are pursuing a career in VBA and macros automation as compared to programming and development. If you also think ok you have what it take to become a professional VBA programmer and developer along with other job profiles mentioned above, then do not waste more of your time and attend our highly customized and industry focus VBA macros automation training Delhi and kick start your career in the database management field. If you have any more queries regarding the training program, you can feel free to call us or give us a visit in our Delhi office where our consultant will be more than happy to resolve any of your issues and queries, so that you can make a better and informed decision about your career.
Course Duration: 80 – 90 HRS with Highly Skilled Corporate Trainers
(VBA/Macros Automation-Access-SQL Training Course) for 4 Modules – Weekdays / Weekend
SLA Consultants Delhi – VBA/Dashboard and Access (SQL) Practical Training Delivery Method:
Web / Desktop Base.
Instructor-Led Classroom Sessions.
Presentations/Demonstration/Practicals of concepts.
Handouts/Assignments/Real-time Exposure to work on Clients.
NOTE: Classes Are Also Available On Module Basis
VBA Macros Automation-Access-SQL Programme Modules
Free – Any Two (Basic Python/R Programming /Tableau /Power BI)
Find the VBA Macros Automation-Access-SQL Training course details. Classes and Course can be designed/customize as per request
Duration of Module
| VBA Macros Automation Course Module | Duration |
| --- | --- |
| Module 1 – VBA / Macros + Any Two (Basic Python/R Programing /Tableau /Power BI) | 25 – 30 (Hours) |
| Module 2 – Access & SQL + Any Two (Basic Python/R Programming /Tableau /Power BI) | 25 – 30 (Hours) |
| Module 1 to 2 – VBA / Macros + Access & SQL+ Any Two (Basic Python/R Programing /Tableau /Power BI) | 70 – 80 (Hours) |
Batch Timings
| VBA Macros Automation Course Schedule | Batch Timing |
| --- | --- |
| Monday to Friday | 8:00 AM – 10:00 AM |
| Monday to Friday | 10:00 AM – 12:00 PM |
| Monday to Friday | 2:00 PM – 4:00 PM |
| Monday to Friday | 4:00 PM – 6:00 PM |
| Saturday/Sunday | 8:00 | 12:00 | 2:00 | 4:00 |
| Sunday | 8:00 AM – 10:00 AM |
| Sunday | 10:00 AM – 12:00 PM |
| Sunday | 2:00 PM – 4:00 PM |
| Sunday | 4:00 PM – 6:00 PM |