✅ MS-Access and SQL Training Course in Delhi + Free Any One (Tableau/Power BI/Python Course)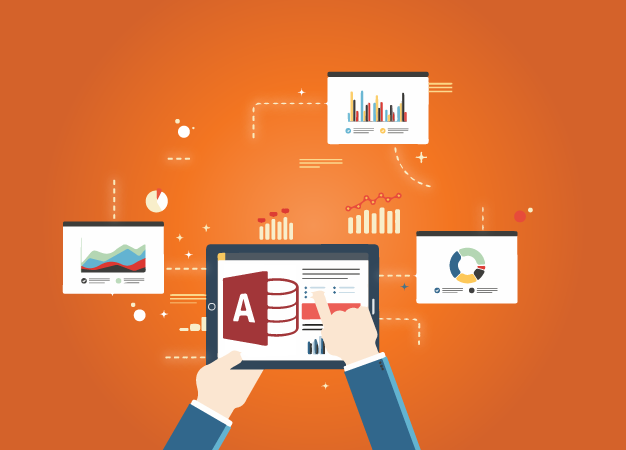 SQL & MS Access Course
Complete SQL
in a Class
SQL
String
Numbers and SQL
SQL Function
& Clause
Maintaing SQL
Server Database
MS-Access and SQL Course in Delhi
SQL & MS-Access with Free Overview of ( R / Tableau )
MS Access and SQL are the products of Microsoft office and is considered as one of the leading and prominently used database management tools all over the world. Microsoft Access is a database management application which allows the user to easily enter, search, filter, sort and report on the information to its highly integrated and flexible user interface. On the other hand, MSAccess refers to an exceptional relational database programming language which can be used for interacting with the database as such as MS Access. It understands and analyses data page which includes data fields in the table and provides useful analysis and insights of the data which can be used for decision making. It can be used for performing various tasks on a database such as updating data, retrieve data, sim porting data, etc. Both MS Access and SQL has a very important place in the business industry where every business organization regardless of their size and scale utilize the tools for the purpose of organizing and managing a large amount of valuable data. Since their establishment, they have been many updates in both the tools in order to counter the latest database management tools and applications which has been entering into the market.
Today database management is considered as one of the most important and inevitable jobs in the business industry due to the increasing amount of data generation and it important for different business organizations. Therefore, if you want to learn advanced database management and all of its concept to become a valuable professional in the market who will be regarded highly in the future, then you should consider attending MS Access and SQL training course Delhi provided by SLA Consultants Delhi. There is no eligibility criteria to attend MS Access and SQL certification course in Delhi other than having a graduation degree in any field. The training program is designed to fulfill the current business standard and requirement and targets both fresher graduates and working professional who wants to learn or enhance their current Database Management and administration skills. SLA consultant Delhi has been providing access and SQL certification course to the students for the last 10 years with over 85% success rate. The trading will cover all the important aspects of database management, MS Access and SQL along with basic Python , R programming, basic Tableau and MSPower BI out of which the candidate can choose one for free. The training can be completed within 1 month or 30 hours depending on the class reference of the learner which is weekdays and weekends.
MS Access and SQL training course Delhi is a specifically designed and industry focussed certification program for IT students who do not want to enter into the field of programming and web development. The training is aimed at giving the participants excessive and necessary knowledge and understanding of database management and administration which will allow them to become a professional in the field within a matter of weeks. The certification program will help them to learn and Excel the use of data bargaining various skills in database programming and Management which include SQL functions and clause, SQL string, SQL server database maintenance, data manipulation, data control, importing and exporting of data in MS Access, along with Basic Python and Tableau, R programming and Ms power BI. MS Access and SQL training course Delhi will also assist the participants to pursue numerous job opportunities in the field such as SQL developer, MS Access database system analyst, data analyst, senior Analyst, SQL programmer and much more.Some of the major things you will learn from the job oriented and industry-focused database management training course include learning technical skills and expertise to research, assess and analyse business requirements and data, ability to adapt quickly and manipulate data in different database applications, importing data from various sources of database such as MS Excel and access, writing and optimizing in-application SQL statements, preparing documentation and specification, profiling server resources usage along with optimising as necessary, handling and managing database processes such as backup and recovery, upgrade, migration, etc and ensuring performance, availability and security of database.
Some of the most fascinating features of the MS Access and SQL training course Delhi include highly certified and professional traders with over 10 to 15 years of experience in the field of database management, updated course curriculum to meet the current requirement of the industry, real-time practical training with live projects and assignments to provide in-depth insights on how to utilize advanced features of MS Access and SQL programming, effective workshops and seminars with projector LED smart classes to provide the learner with profound learning experience and clear their doubts on the go along with 100% job placement assistance which include personality development training, interview preparation and sending the candidate for job interviews in reputed organization until they are selected. However, after completing the access and SQL certification course Delhi from SLA consultant Delhi, the participant will become an expert in the field of database administration and programming with the ability to clear any kind of job interview in the first attempt. This is because the certification in the field will also help them in building their resume which will provide them a competitive edge over other candidates during the recruitment process. And this is why the course is highly recommended for any individual who is planning to pursue a promising and successful career in the field of database administration and programming. If you think you do not possess the kind of skills required to excel in the IT field, then consider attending Access and SQL training course Delhi from SLA consultant Delhi to give your career a new direction after graduation. For more information regarding in the course or our Institute, feel free to give us a call or visit our office in Laxmi Nagar.
Database Management and administration it is one of those requirements for any business organization that cannot be ignored or avoided at any cost. This is because, in this highly competitive and modern world, it is important for businesses to keep track of their customers, market trends and competitors' actions in order to sustain in the market and attract the possible audience. To make it happens, they need to prepare and maintain a database which will include all of their information regarding the customer, sales and purchase, supply chain activities, logistics and inventory, market requirement, etc so that they can make changes in your business strategy as per the current trend and achieve the best outcome. There are various database management tools and application available in the market which offers the user to perform all these activities, however, MS Access and SQL is known as by far the best database administration tools due to its high speed, no programming, interactive language, well-defined standards, multiple data view, portability, easy to use and user-friendliness. There is no need to have any prior programming knowledge or database knowledge in order to learn these two specific tools and it also offers incredible support from the community in case of any kind of difficulty and doubt.However, there are many more reason why an individual wants to pursue a career in the database administration and programming learn MS Access and SQL as compared to another programming language, which are as provided below:
MS Access and SQL are the most popular database administration tools available in the market which is being used by thousands of organizations all over the world for the purpose of effective maintenance and management of a large amount of data. This is my learning these tools will help the applicant to get various job opportunities especially in the Indian market, where the demand for professional database administrators and SQL programmers are extremely high.
Apart from that, learning MS Access and SQL can also so help the candidates to pursue a large number of job profiles including database administrator, SQL Server developer, SQL programmer, database manager, project manager, data analyst, etc.
There is always openings for expert database administrators in numerous multinational organizations in such as Google, Microsoft, Genpact, HCL, Infosys, Accenture, etc. This means that it will also help the candidate to lead a successful career in any of these companies and much more to secure their future.
The pay scale provided to the MS Access and SQL professional is much higher as compared to databases administrators who have experience in different applications such as, Oracle, my SQL, etc. The average pay scale offered to the SQL programmer and developer is around 5 lakh to 7 lakh per annum which increases as per the experience level of the candidate.
You will also be considered as one of the most important and reputed experts at the workplace due to your significance in the IT Department without which the company management will not be able to take effective and proper decision for the future.
These are some of the finest reasons why learning MS Access and SQL can prove to be extremely beneficial for your future career and make you a highly demanding expert in the market. If you still are not convinced whether you should learn MS Access and SQL database applications, then you should visit SLA consultant Delhi office in Laxmi Nagar and consult with our administrator to make a better and informed decision.
MS-Access and SQL Training Course with Interview Guarantee
Our Trainer:- 10+ Years of industry experience as a MIS Manager in MNC, Education:- B.Tech
Course Duration: 25 – 30 (Hours) with Highly Skilled Corporate Trainers
(MS-Access and SQL Training) for below Modules – Weekdays / Weekend
SLA Consultants Delhi – MS-Access and SQL Training Course Delivery Method:
Web / Desktop Base.
Instructor-Led Classroom Sessions.
Presentations/Demonstration/Practicals of concepts.
Handouts/Assignments/Real-time Exposure to work on Clients.
MS-Access and SQL Programme Modules
MS-Access and SQL
Free – Any One (Basic Python /R Programing /Tableau /Power BI)
Please find the MS-Access and SQL course details.
Duration of Module
| MS-Access and SQL Course Module | Course Duration |
| --- | --- |
| Access & SQL + Any One (Basic Python/R Programming /Tableau /Power BI) | 25 – 30 (Hours) |
Batch Timings
| MS-Access and SQL Course Schedule | Course Timing |
| --- | --- |
| Monday to Friday | 8:00 AM – 10:00 AM |
| Monday to Friday | 10:00 AM – 12:00 PM |
| Monday to Friday | 2:00 PM – 4:00 PM |
| Monday to Friday | 4:00 PM – 6:00 PM |
| Saturday/Sunday | 8:00 | 12:00 | 2:00 | 4:00 |
| Sunday | 8:00 AM – 10:00 AM |
| Sunday | 10:00 AM – 12:00 PM |
| Sunday | 2:00 PM – 4:00 PM |
| Sunday | 4:00 PM – 6:00 PM |